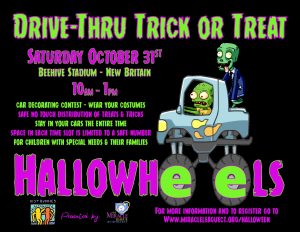 HalloWheels – A Drive-Thru Trick or Treat
REGISTRATION IS NOW CLOSED – TIME SLOTS ARE FULL
TIME SLOT ASSIGNMENTS WILL BE EMAILED SHORTLY TO ALL WHO HAVE REGISTERED – PLEASE BE SURE TO CHECK YOUR SPAM FOLDERS FOR EMAILS
Halloween has been a special event for The Miracle League of CT every year since our field opened in 2012.  The COVID-19 pandemic has thrown a curve ball to us all, but we are not going to let that stop us from having some trick or treat fun!  This year's event will look very different and it will be held at a different location so that we can make the event as safe as possible.  We are teaming up with our friends from Best Buddies in CT to present a safe, fun, drive-thru trick or treat opportunity for our families.
Join us on Saturday, October 31st for a Drive-Thru Trick or Treat parade at the New Britain Bees Stadium Parking Lot in New Britain from 10am – 1pm.  Here are just a few of the safety measures that we will be utilizing:
Attendees will remain in their cars at all times (except if you opt to decorate your cars on site)

All treats will be pre-packaged and will be distributed into your car without any physical contact

All treat bags will be prepared by volunteers who use gloves and masks at all times

We are requiring families to sign up for one of 5 time slots so that we can limit the number of people in attendance at any given time.  Time slots are limited and will be filled on a first come, first served basis.

Groups will be checked in by license plates so you don't even need to lower your windows.
HalloWheels Car Decorating Contest
Attendees may choose to decorate their cars upon their arrival at the Stadium although you may certainly participate without decorating.  We will provide socially distanced parking spots for you to decorate your cars at the stadium so that you won't need to drive with the decorations on your car. At the end of the car parade you will be directed to an area to remove the decorations for a safe trip home.  All decorated cars may choose to enter the HalloWheels Car Decorating Contest.  Photos of the entrants will be posted onto a voting site after the event.  Prizes will be awarded to the cars that get the most votes.
PRESENTED BY