MIRACLE LEAGUE BASEBALL
Miracle League Baseball is played on the first fully accessible baseball field in New England.  The field is located on the corner of  Trout Brook Dr. and Asylum Ave. in West Hartford.  Since 2012 hundreds of children with intellectual, developmental, and physical disabilities have been able to enjoy America's pastime in a safe and supportive atmosphere.  Spring and Fall seasons are offered for children ages 4-21 on the rubberized surface field that has no raised obstacles.
MIRACLE LEAGUE FALL BASEBALL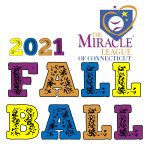 The 2021 Miracle League of CT Fall Ball Season will begin on Saturday 9/11.  There will be 2 age divisions: Minor League for ages 4-11 and Major League for ages 12+.  All Minor League games will be played at 1pm, Major League games at 3pm.  Fall Ball games are pick up games, before each game a Captain of the week will be chosen and that Captain will get to pick the team name for the week.  All other players will be assigned to one of the 2 teams.  All players will get a Fall Ball T-shirt.
The goal of the Miracle League of CT is to remove all barriers that prevent children with special needs from participating in recreational, educational  and cultural activities.  If one of those barriers is a financial one, please email us at miracleleaguect@comcast.net to request a fee waiver for any of our programs.  We will do our best to accommodate your request which will be kept strictly confidential.