MIRACLE LEAGUE BASEBALL
Miracle League Baseball is played on the first fully accessible baseball field in New England.  The field is located on the corner of Trout Brook Dr. and Asylum Ave. in West Hartford.  Since 2012 hundreds of children with intellectual, developmental, and physical disabilities have been able to enjoy America's pastime in a safe and supportive atmosphere.  Spring and Fall seasons are offered for children ages 4-21 on the rubberized surface field that has no raised obstacles.
MIRACLE LEAGUE SPRING BASEBALL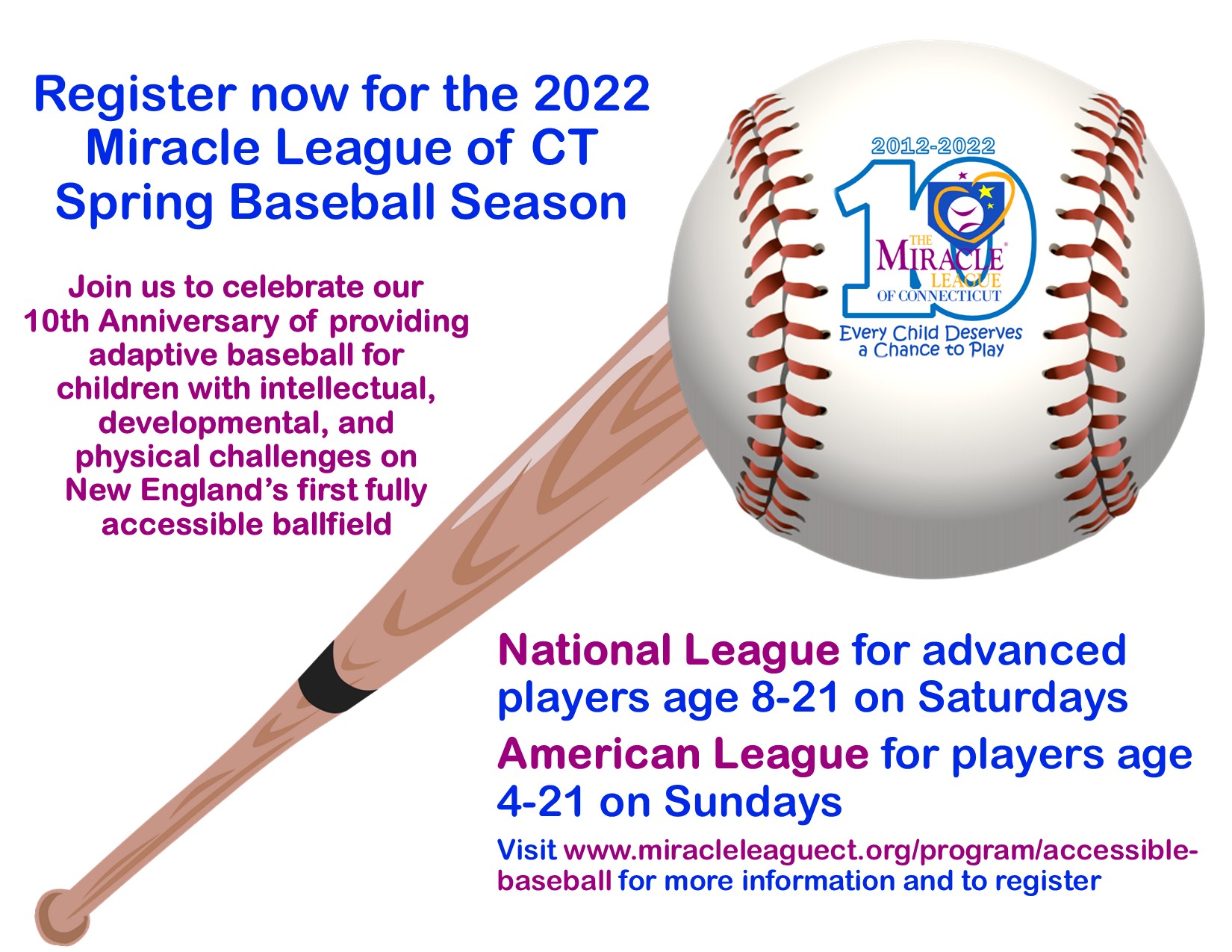 Registration is now open for the 10th Anniversary season of Miracle League of CT Baseball. Play begins on the weekend of April 23-24 and concludes on the weekend of June 11-12 with an exciting celebration of our 10th Anniversary.
National League play is for children ages 8-21 who are a bit more advanced and are looking to get in some skill building drills each week along with a typical Miracle League game.  The National League meets on Saturdays from 1-3pm. Each week will include a 45-minute practice at which they will be coached up by our great team of coaches and then they will play a game each week following the practice. Space is limited in the National League to just 30 players, please sign up early to be sure your child has a spot on one of the teams.
American League play is for the more casual baseball players. The player skill level doesn't matter, we will adjust and adapt to each individual's needs. Games in the American League consist of 2 innings each in which all players will get to bat in each inning. American League games are played on a rotating schedule on Sunday afternoons.  Games for players ages 4-11 will be played at either 12:30 pm or 1:45 pm. Games for players ages 12 and up will be at 3:00 each Sunday.
The goal of the Miracle League of CT is to remove all barriers that prevent children with special needs from participating in recreational, educational and cultural activities.  If one of those barriers is a financial one, please email us at miracleleaguect@comcast.net to request a fee waiver for any of our programs.  We will do our best to accommodate your request which will be kept strictly confidential.