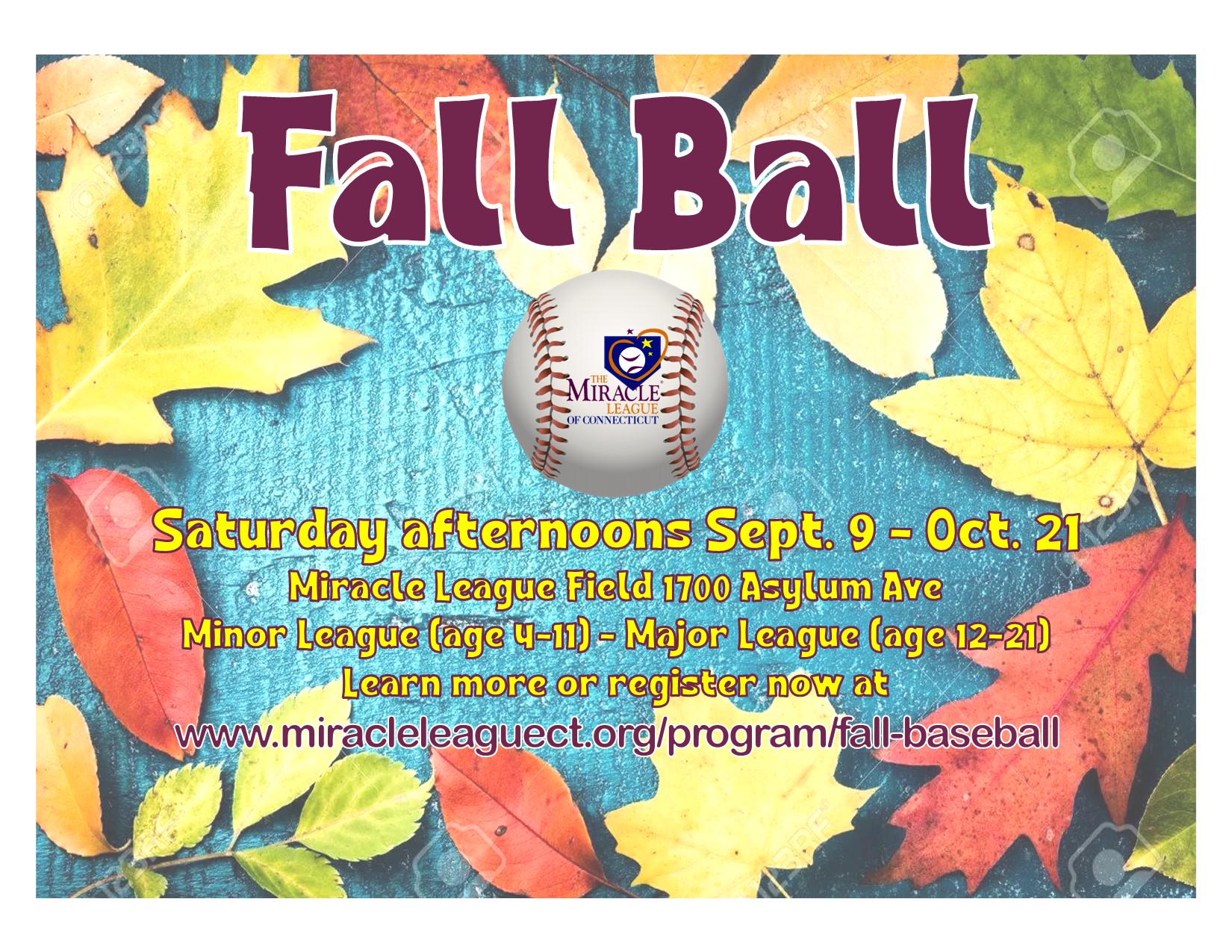 Fall Baseball 2023 Begins on Saturday September 9th
Come join us on Saturday afternoons beginning on September 9th and ending on October 21st for our Miracle League of CT Fall Ball season. Fall Ball is a bit different from our Spring season in that we have pick-up games each week rather than players being assigned to specific teams. Each Saturday we will choose an "honorary team captain" who gets to choose the team's name for that week. We then assign the rest of the players to one of the two teams and play a 2-inning Miracle League baseball game. There will be 2 games each week – a Minor League game for players age 4-11 at 1pm, and a Major League game at 2:15 for players age 12-21.
Miracle League baseball is designed for players age 4-21 who have intellectual, developmental, or physical challenges. Our games are non-competitive and are really just about having fun. Each player will get to bat in each inning and will score a run. No strikes, no balls, no outs! Just lots of fun. Players will be assisted on the field as much, or as little, as they need by our Baseball Buddies who volunteer their time each week. In the fall we feature players from the University of Hartford Hawks Baseball Team and the University of St. Joseph Blue Jays Baseball team. Volunteers from the community are welcome to join us also. Baseball Buddies must be at least 12 years old. You do not need to be a baseball player to volunteer. All you need is some empathy, patience, and a desire to help others who may need some assistance or just some company on the field.
Both players and volunteers may register for the 2023 Fall Ball season by clicking on the register now button below. Players will get a Fall Ball t-shirt which is included in the registration fee. Buddies will get a Baseball Buddy shirt.
The goal of the Miracle League of CT is to remove all barriers that prevent children with special needs from participating in recreational, educational, and cultural activities.  If one of those barriers is a financial one, please email us at miracleleaguect@comcast.net to request a fee waiver for any of our programs.  We will do our best to accommodate your request which will be kept strictly confidential.

Special Thanks to our Fall Baseball Sponsor